---
Wander the streets of London with this evocative blend. Through the fog, catch glimpses of grey buildings with traces of decades-old coal smoke, bustling markets with fresh-baked treats, sing-song flower sellers, and galleries of oil paintings.This sweet-smoky-floral blend is sure to intrigue your palate.
Strong enough for the addition of milk – an interesting, less-sweet twist on a London Fog tea latte or Earl Grey Cream.
Ingredients: Black Tea, rose petals, natural and artificial flavour, bergamot oil.
| | |
| --- | --- |
| Caffeine | Caffeinated |
| Cup Strength | Strong |
| Origin | Blend |
| Tea Format | Loose Tea |
| Type | Black |
One of my favorites Review by Buckey007
After reading all the comments I knew I had to try it for myself since there were such mixed reviews. Am I ever happy I did. What a beautiful tea. This is one of the teas that will always be stocked at my house. Thank you so much Murchie's. You've spoiled me, it's the only tea I purchase.
Posted on 2022-08-13
Questionable Review by Victoria
I think this tea would be better without the vanilla which, for my taste, seems to interfere with the general overall flavor.
Posted on 2022-07-22
Unexpected new fave Review by ['El']
I never thought I'd enjoy a tea that had smoky and rose notes, sounds like potpourri. Somehow they pull it off perfectly. I drink it with oat or pea milk and it's delicious. I don't taste the bergemont much but that's fine with me. I drink this every morning and it always lifts my day
Posted on 2021-12-04
Unfortunately, Nope for me too Review by ['Sabrina']
I was a little concerned when I saw the Lapsong in the ingredients, but want to try it. I have to agree with "Nope by Lisa" - too many competeing flavors. It honestly tastes, to me, like I grabbed some juniper berries out of my yard, crushed them and poured hot water over them. I'm disappointed, this is the only Murchie's tea that I absolutely won't be able to drink (but my mom likes Lapson, I'll send it to her), I actually dumped it out. This is not on Murchie's, as I said, I was concerned when I saw the Lapsong, I don't like smoky tea, but I tried it anyway. So, I would say, if you like smokey teas, this should be fine - I can't taste the bergamot over the smokey flavor. But it's definitely not one I'll ever order again.
Posted on 2021-10-31
My new favourite tea Review by LM
I've never tasted anything like this tea. Although the flavours seem like they could be a strange combination, the balance is perfect and they really work together. It's a perfect afternoon pick-me-up and always cheers me up on a bad day. The kind of tea that makes you want to stop for a few minutes and just...appreciate it.
Posted on 2021-10-26
Complex and balanced Review by Sherry
I generally don't like bergamot, being one of the rare people who doesn't enjoy Earl Gray, but any "perfumieness" is well balanced by the smokiness of Lapsang. It's truly the best of all worlds--if only Murchies would keep it in stock.
Posted on 2021-06-26
Addictive and elegant Review by EV von Fleek
You'll either love or hate this one. It's an elegant blend that's difficult to describe. Since they've been out of this for some time, I've tried to make my own blend of Lapsang Souchong, Earl Grey, Vanilla and Canadian Maple (or maybe it's called Canadian Breakfast). At any rate, my version isn't quite right. I can't wait until this comes back in stock.
Posted on 2021-05-21
Fantastic! Review by ['Troy']
Living in HK and Macau for a decade, I discovered and drank Lapsang Souchong as a go-to Saturday morning, Sunday morning, yum-cha regular. After moving to Vancouver in 2015 I discovered this in 2018, a fantastic blend to level out the lapsang, am disappointed we ran out 4 months ago and have not been able to purchase again since.
Posted on 2021-04-17
Nope Review by ['Lisa']
I love most of the tea from Murchie's, but this one was a big nope for me. I am in no way opposed to complex flavour profiles, but the flavours in this tea were just an incredibly odd combination. It seemed like they were trying to blend too many strong yet opposing flavours and it just didn't work. The best way I can describe the flavour is musty old lady perfume. I see it got lots of good reviews so maybe I'm the odd one out!
Posted on 2021-04-06
Favorite in our house Review by ['limeshot']
My 9 year old and I drink this most afternoons when we come home from school. It's his favorite tea hands down and it's always on my purchasing list when I put in a tea order. Please keep this tea forever!
Posted on 2021-03-22
Amazing! Review by ['Helen']
I didn't know what to expect at first but quickly fell in love with this tea. I've always gravitated to smokey teas and can't get enough of this one.
Posted on 2021-03-10
Terrific! Review by ['Hattie']
I love this tea! Wonderful aroma and flavour, lovely balance. Make some more, Murchies. I can't bear it that you haven't any available just now.
Posted on 2021-02-09
Unique and nice Review by ['LwrightAK']
I was uncertain about this blend, especially after reading the extremely mixed reviews. I find it particularly appealing when I feel like drinking a tea that is a pick-me-up but that also brings unique qualities to a moment of relaxation and mindfulness. It's perfect for an early afternoon work break. The strong but not overwhelming smokiness is moderated by floral input from bergamot & roses. I drink it not overbrewed and with a splash of whole milk.
Posted on 2020-12-06
Game changer! Review by ['Tam']
This tea changed the way I think, and drink about tea. It's so comforting.
Posted on 2020-10-29
3/5 Review by Kendal
3/5 stars
Posted on 2020-07-31
Yuck...not my cup of tea! Review by Rosie
Yuck...sounded so promising...smelt exotic...rose petals, bergamot.....pure yuck...dumped it, double bagged it....try storm watcher..it's amazing!
Posted on 2020-06-20
My Favorite Review by Tamara
Smells like camping; I love it! Doesn't matter where or when I am - brew a cup, close my eyes, breathe deep and I'm somewhere else entirely. Brilliant tea, thank you!
Posted on 2020-05-17
My Go To Cuppa Review by Kate
Don't let "smokey" and "rose" scare you away. The balance on this tea is superb and it has become my daily drinker. One of the best teas I've ever had, thanks Murchie's! Please, don't ever stop making it.
Posted on 2020-05-07
Surprise! Review by Wes
I was a skeptic when I first saw it at the store. Rose petals? Really? But it is shockingly good! So many aromas and flavors; tea, earl gray, vanilla, lapsang, roses...but each one intertwines with the other and doesn't overwhelm. Reminds me of some of the more complicated teas I have had in Saint Petersburg...
Posted on 2018-02-21
Unexpected Review by tleigh
This tea was so unexpected! It's smokey and smooth...and a completely new experience! I was instantly hooked and now I make a daily cold brew to enjoy during the work day. I cannot get enough...plus rose petals...I mean...talk about keeping it classy! I definitely get my "Emily Post" on when I sip this tea...pinkies out!
Posted on 2017-02-28
---
Write your Own Review
You're reviewing: London Afternoon Loose Tea
Flavour Profile Guide
Tea and coffee tasting is a very individual, multi-dimensional experience: one person's perfect cup can be too strong or weak, too brisk or watery for the next person. At Murchie's, we believe that the best tea or coffee is the one that YOU like the best! We use the following flavour profile guides to help compare our teas and coffees within a relative scale.
---
Tea Strength Ratings
This rating method indicates the strength of flavour each tea has when brewed according to our brewing guide.
| | | |
| --- | --- | --- |
| RATING | | RATING PROFILE |
| | | Light/Delicate: Very light in colour and delicate in flavour |
| | | Medium: Medium-light cup with slightly fuller cup |
| | | Medium-Strong: Medium-dark cup, medium body, and full flavour without harshness |
| | | Strong: Full body, rich cup, takes milk well |
| | | Very Strong: Rich, dark cup with very full, strong flavour and briskness |
---
Coffee Ratings
We rate the flavour properties of our coffees along two dimensions: roast and body.
Roast is simply a result of how long and how hot the beans have been roasted, which can be seen in the colour of the finished bean, and typically results in general flavour traits:
| | | |
| --- | --- | --- |
| Light Roast | | More acidity, brightness and a slight pucker |
| Medium Roast | | Slightly richer flavours, some acidity, enhanced creaminess |
| Dark Roast | | Distinctive roasted flavour, sometimes notes of toasted sugar or charcoal |
Body is the term used to describe how the brewed coffee feels in your mouth:
| | | |
| --- | --- | --- |
| Light Body | | Easy to drink with little lingering flavour, 'thin' or 'clean' feeling on the palate |
| Medium Body | | Heavier, creamier mouth-feel with more lingering flavour |
| Full Body | | Rich, full-mouth feeling: hits all of the palate and lingers |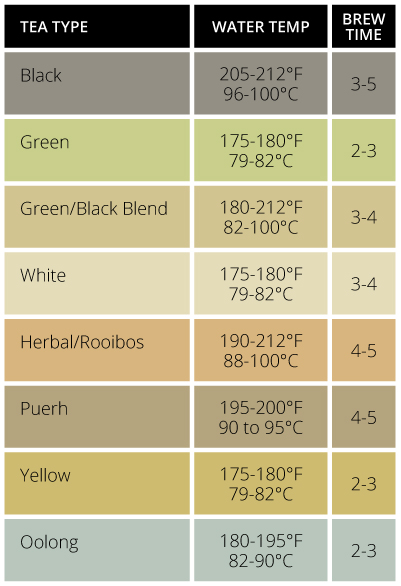 Tea Brewing Guide
Different types of teas should be brewed according to certain times and water temperatures to bring out their best flavours. Use this guide as a starting point, and then experiment until you find the perfect brewing method for your favourite tea.
Based on approximately one level teaspoon (2.5g) of loose tea or one tea bag per 6-8 ounce (180-240ml) cup. For stronger flavour, add more tea. Brewing for longer may increase the strength of the tea, but will likely also cause bitterness.
Brew times shown in minutes.
---
Coffee Brewing Guide
The simplest methods for brewing coffee are drip coffee, pour over and French press. These guidelines are a starting point; modify the ratio of coffee to water, the grind, and brewing time to your taste. If your coffee is not strong enough, increase the proportion of coffee per cup of water, grind the beans finer, or allow them to brew longer – or any combination of these factors. If your coffee is too strong, simply do the opposite.
Drip coffee or pour over method: hot water is gradually poured over coffee grounds and slowly drips through
Fine to medium grind coffee
1.5 to 2.5 tablespoons of coffee per cup of water
French press:
coffee grounds are 'steeped' in hot water, and then a filter presses down the grounds, allowing the finished coffee to be poured off
Coarse grind coffee
1 to 1.5 tablespoons of coffee per cup (e.g. 4-6 tbsp for a 4-cup French press)
Pour about 1/3 of the water over the coffee grinds; wait about 30 seconds and then pour in the rest
Wait 4-5 minutes, then push down the plunger to separate the grounds from finished coffee, and enjoy!
---