---
A long-time fan favourite, this is a superb blend of green Gunpowder and Jasmine, as well as Keemun and Ceylon black teas. All the flavour of our world famous No. 10 Blend, with a touch of bergamot to brighten the flavour, and Ceylon to strengthen the brew. With slightly more pronounced citrus and floral tones, this makes for a great cup of tea.
Ingredients: black tea, green tea, bergamot oil
| | |
| --- | --- |
| Caffeine | Caffeinated |
| Cup Strength | Strong |
| Origin | Blend |
| Tea Format | Loose Tea |
| Type | Green/Black Blend |
Love this tea Review by ['LM']
I usually prefer flavoured teas (Earl Grey is my favourite), but I find myself coming back to this one again and again. The green and the black are perfectly balanced - I agree with the other review that called it "delicate + robust". Delicious in all weathers and all moods.
Posted on 2021-10-27
Smooth, beautiful, special Review by Kristi
This is the tea that introduced me to Murchie's. My manager is from Canada and when I complained I could not get good tea in the US after having had tea from the UK he recommended Murchie's, particularly No. 22. My life has not been the same since. This team is a beautiful, smooth blend that makes every day special. My husband and I order this on the regular.
Posted on 2019-05-14
Nothing Better Review by Alaskalyn
I've been drinking this tea in the morning for over 15 years. There's nothing I've found to compare to No. 22, it's simply the best. And by far, at that.
Posted on 2014-11-28
Tea Granny Review by Katydid
My mom was a tea granny, the kettle was always at the ready to greet a friend with a cup of hot tea. Her all time favourite tea was Murchies No. 22 Blend. She had stashes of it everywhere. Recently, my aunt gave me a cup of No. 22, all my memories of my mom came swirling back in that one cup of Murchies brew. Best tea ever. Time to order some for my own home.
Posted on 2014-01-20
I can't quit you, No. 22 Review by Peter
I keep wanting to branch out and try other tea suppliers, and sometimes I do; but I always come back to Murchie's. This tea is the reason for that. I've never had anything quite like it and if I don't have it for a while, I crave it. It doesn't matter how many other teas I have on hand. I highly recommend this tea.
Posted on 2013-11-15
Excellent tasting tea Review by prairie tea lover
I only drink Murchie's teas and order a variety of them. The most favored however is No. 22. When we serve tea to guests, most don't take notice but they always seem to comment on what a smooth great tasting tea No. 22 is. I've just placed a large order again.
Posted on 2013-08-04
Yummy tea Review by JJ
I discovered it when I was in Canada for the fist time, when I was on my honeymoon. I love it and order it on a regular basis. Loose leaf as well as bags.. The perfect cup in the moring and afternoon. Bags great for the office.
Posted on 2012-04-05
Awesome Review by country girl
Really lovely aroma, good and strong but not bitter. Works very well with our highly mineralized well water. Nothing else I've tried comes close to the combination of delicate + robust.
Posted on 2012-02-23
Yummy Review by Velora
Wonderful flavor and soothing sweet jasmine aroma. A real winner.
Posted on 2012-01-30
Highly recommended Review by westcoast girl in the east
My tea afficionado husband, who loves to make his own blends, still needs our bi-annual order of Murchies 22. Nothing that we have bought or blended ourselves can compare. The perfect balance.
Posted on 2011-12-29
My daily blend, Highly recommended Review by MR
This is my go-to daily cuppa. Always enjoyable, never bitter, highly recommended!
Posted on 2011-11-11
---
Write your Own Review
You're reviewing: No. 22 Blend Loose Tea
Flavour Profile Guide
Tea and coffee tasting is a very individual, multi-dimensional experience: one person's perfect cup can be too strong or weak, too brisk or watery for the next person. At Murchie's, we believe that the best tea or coffee is the one that YOU like the best! We use the following flavour profile guides to help compare our teas and coffees within a relative scale.
---
Tea Strength Ratings
This rating method indicates the strength of flavour each tea has when brewed according to our brewing guide.
| | | |
| --- | --- | --- |
| RATING | | RATING PROFILE |
| | | Light/Delicate: Very light in colour and delicate in flavour |
| | | Medium: Medium-light cup with slightly fuller cup |
| | | Medium-Strong: Medium-dark cup, medium body, and full flavour without harshness |
| | | Strong: Full body, rich cup, takes milk well |
| | | Very Strong: Rich, dark cup with very full, strong flavour and briskness |
---
Coffee Ratings
We rate the flavour properties of our coffees along two dimensions: roast and body.
Roast is simply a result of how long and how hot the beans have been roasted, which can be seen in the colour of the finished bean, and typically results in general flavour traits:
| | | |
| --- | --- | --- |
| Light Roast | | More acidity, brightness and a slight pucker |
| Medium Roast | | Slightly richer flavours, some acidity, enhanced creaminess |
| Dark Roast | | Distinctive roasted flavour, sometimes notes of toasted sugar or charcoal |
Body is the term used to describe how the brewed coffee feels in your mouth:
| | | |
| --- | --- | --- |
| Light Body | | Easy to drink with little lingering flavour, 'thin' or 'clean' feeling on the palate |
| Medium Body | | Heavier, creamier mouth-feel with more lingering flavour |
| Full Body | | Rich, full-mouth feeling: hits all of the palate and lingers |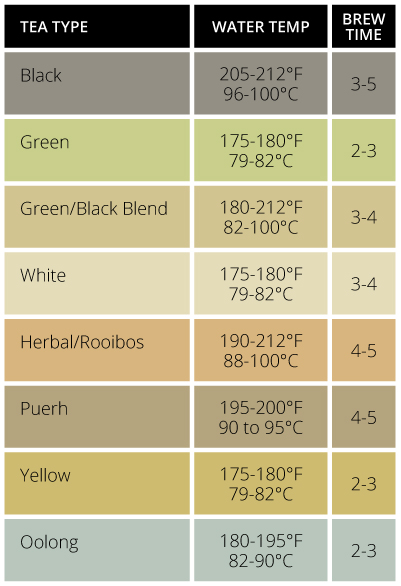 Tea Brewing Guide
Different types of teas should be brewed according to certain times and water temperatures to bring out their best flavours. Use this guide as a starting point, and then experiment until you find the perfect brewing method for your favourite tea.
Based on approximately one level teaspoon (2.5g) of loose tea or one tea bag per 6-8 ounce (180-240ml) cup. For stronger flavour, add more tea. Brewing for longer may increase the strength of the tea, but will likely also cause bitterness.
Brew times shown in minutes.
---
Coffee Brewing Guide
The simplest methods for brewing coffee are drip coffee, pour over and French press. These guidelines are a starting point; modify the ratio of coffee to water, the grind, and brewing time to your taste. If your coffee is not strong enough, increase the proportion of coffee per cup of water, grind the beans finer, or allow them to brew longer – or any combination of these factors. If your coffee is too strong, simply do the opposite.
Drip coffee or pour over method: hot water is gradually poured over coffee grounds and slowly drips through
Fine to medium grind coffee
1.5 to 2.5 tablespoons of coffee per cup of water
French press:
coffee grounds are 'steeped' in hot water, and then a filter presses down the grounds, allowing the finished coffee to be poured off
Coarse grind coffee
1 to 1.5 tablespoons of coffee per cup (e.g. 4-6 tbsp for a 4-cup French press)
Pour about 1/3 of the water over the coffee grinds; wait about 30 seconds and then pour in the rest
Wait 4-5 minutes, then push down the plunger to separate the grounds from finished coffee, and enjoy!
---